55th Fighter Group
55th Fighter Group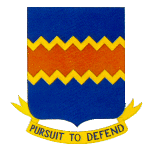 66th Fighter Wing, 8th USAAF.
The 55th Fighter Group was composed
of 38th, 338th and 343th Squadrons.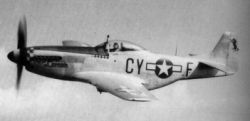 The Group was assigned 66th Fighter Wing of the Third Air Division, 8th USAAF on 16 September 1943, with a bomber escort role. At this time they were the first 8thUSAAF Group to be equipped with P-38 Lightnings which they flew from Station 131 at Nuthampstead, Herts. They remained at Nuthampstead until April 21st 1944 when they were moved to Station 159 at Wormingford in Essex to make way for 398th Bombardment Group. On 18th July 1944, the Group converted to P-51Ds and stayed at Wormingford until 21st July 1945 before becoming part of the occupation forces in Germany until disbandment on August 20th 1946.
The 55thFG flew over 600 missions and received two Distinguished Unit Citations for the period 3-13 September 1944 and 19th February 1945. 181 of their aircraft were reported as Missing In Action.
The involement of 55thFG on 11th September 1944 mission means many separate combat with involvements of all four squadrons. Their pilots won many victories, but also four 55thFG P-51s were Missing In Action by the end of this day.
The 55th FG had one MISSING pilot from this day, Lt. William M. Lewis, Jr. The good fortune allowed us to clear his fate - to found where he crashed, on common mission with the US Army CILHI recover his remains from the crashsite and "bring Bill home"...
In 2005 was published a book covering the whole story of Bill Lewis, his daughter Sharon searching for her father, our effort and the common CILHI reovery mission, leading to the recovery and identification of the airman's remains and the burial in his hometown Tulsa mission was published. See more here: Courtesies of the Heart.

One of most known 55th FG´s
Mustangs P-51D #44-13837 CY-M "Miss Marilyn II"
flown by 1stLt. R. E. Welch of 343rd FS, 55th FG
- October - November 1944

| | |
| --- | --- |
| | Group identification was yellow-green checkerboard on the forward engine cowling with Green/Yellow/Green spinner (since August / September 1944). Latter also identification of each squadron was added by the colored rudders. |


Code letters, callsigns and colors of squadrons of the Group
Squadron
Sqn letters
rudder ID

Callsign
38th
CG
triangle / Red
Hellcat
338th
CL
circle / Dark Green
Acorn
343rd
CY
square

/ Yellow
Tudor
55th Fighter Group today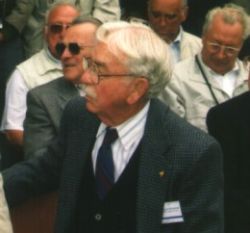 Lt. Wayne E. Rosenoff of was one of the four 55th FG pilotřs that were shot down on 11th September 1944. He was only survivor of the units loses that day.
53 years later he attended the ceremony for opening of the museum dedicated to his last wartime combat as representative of the 55th FG.
On the photo in background are pilots of JG 4 - his former opponents. Our great friend Wayne passed away in August 2003.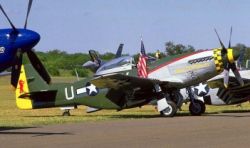 A P-51D warbird flying today in 55th FG colours