Airplanes of the battle
Specifications of aircraft involved
in the battle on September 11, 1944
over the Ore Mountains
Boeing B-17G Flying Fortress
(100th, 95th Bombardment Group)

Length: 74 ft 9 in
Wingspan: 103 ft 9 in
Height: 19 ft 1 in
Top speed: 287 mph
Serv.Ceiling: 35 600 ft
Max.weight: 72 000 lbs
Range: 2 000 miles
Crew: 9-11
Engines: 4 x 1 200hp Wright- Cyclone
R-1820-97 Radials
Armament: 12-13 x Browning 0.5 inch,
4 000 - 17 600 lbs bomb load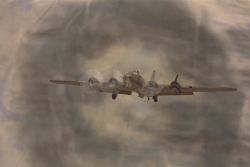 Queen of the Sky... The B-17 Flying Fortress was one of the two main American daylight heavy bombers of the Second World War. The B-17G incorporated a chin turret and additional machine guns to counter head-on attacks by Luftwaffe fighters. In addition however, there were other less obvious modifications in that many of the control surfaces were operated electrically rather than hydraulically and the waist-gun positions were staggered rather than opposed.
Focke-Wulf FW 190A8/R-2
(II. Sturmgruppe /Jagdgeschwader 4)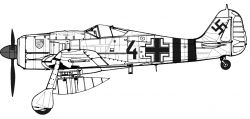 Length: 29 ft 11 in
Wingspan: 34 ft 51 in
Height: 13ft
Top speed: 408 mph
Serv.Ceiling: 37 400 ft
Max.Weight: 10 802 lbs
Range: 500miles
Crew: 1
Engine: 2 100 hp BMW 801D-2
Radial with water-methanol boost
Armament: (FW 190A8/R-2 Stumjäger):
2 x MK 151 - 20mm, cannon
2 x MG 131 - 13mm (machine gunn - optional)
2 x MK 108 - 30mm cannon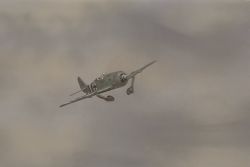 The FW190 was one of the finest fighters of WWII. It was fast, agile, well armored and had an immense firepower, which could disable even a heavy bomber with one burst. The FW190 was also used in the fighter/bomber and ground attack roles.

Messerschmitt Bf 109G-6, G-14
(III. Gruppe / Jagdgeschwader 4)

Length: 29 ft 7 in
Wingspan: 32 ft
Height: 11 ft 2 in
Top speed: 387 mph
Serv.Ceiling: 38 550 ft
Max. weight: 6 944 lb
Range: 450 miles
Crew: 1
Engine: 1475 hp DB 605A
Armament:
2 x 13 mm MG 131 machinegun
2 x 20mm MK 151/20 cannon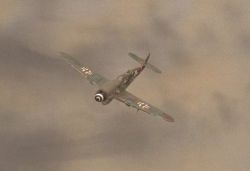 The Bf 109 was the primary fighter in service with the Luftwaffe and was more than an even match for both Spitfires and Hurricanes. The aircraft design was exceptional for its day but the tactical requirement for its use as a fighter-bomber were severely limited by its performance. The Bf 109G was introduced in 1942, and had a more powerful engine and was produced in greater numbers than any other model. Armament modifications were numerous and could include 30mm cannon and bomb racks. Many of the Bf 109s served after the war in some countries, such as Czechoslovakia, Spain and Israel.
North American P-51D Mustang
(339th & 55th Fighter Group)

Wingspan: 37 ft
Length: 32ft 2in
Laden Weight: 11 600 lb
Engine: 1 450 hp
Packard Merlin 61,
12 cylinder V type
Max. Speed: 437mph
Ceiling: 41 900 ft
Range: 2 080 miles
Armament: 6 x 0.5 inch - Browning M-2
Crew: 1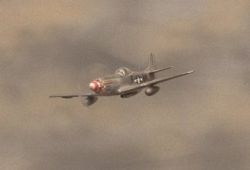 The Mustang was designed as a long range fighter that should match German fighters. The result was an extraordinary fighter; fast, agile and quite easy to fly. 15,576 were built and some were still operational in the 1960s.
Aviation Artwork on this page is by coutresy of Kim and Amy Chetwyn on www.stable.demon.co.uk