Kovarska / Schmiedeberg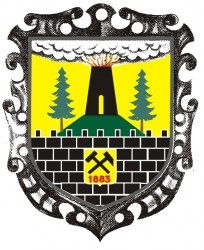 KOVARSKA (Schmiedeberg)
(Chomutov district, Czech Republic)

Kovarska is a pleasant mountain village on top of the "Krusne hory" / "Erzgebirge" ("Ore mountains"), near the Klinovec hilltop (1244 m above sea level). First mention of this village is from the Middle Ages, when it was a centre of mining and processing of the ore. During "Swedish wars" in 1641, a large battle took place near the village between Swedish and Austrian soldiers. The village acquired its own emblem in 1883, with a "calcium-furnace" in the centre of the emblem. This region was mainly populated with Germans, who kept the village's name "Schmiedeberg" for a long time. The whole region was always part of the Czech Kingdom; therefore it naturally became part of the new Czechoslovak Republic in 1918. The village was important part of the Ore Mountains region. Due to treason of west-allies in 1938, this village, as well as all "Sudetenland" region was separated from the Czechoslovak Republic and became part of Germany. A minority Czech population was forced to leave this region. Situation was unfortunately similar in 1945 when again most of German people were forced to move to Germany. Since 1947, this village has carried its full Czech name Kovarska.


The village can be found in Cerna voda ("Black water") mountain stream basin between hilltops Spicak, Kamenny and Prisecnicka mountain.

The population of the village is about 1300 people, with an average age of 36 years.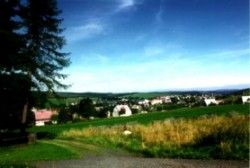 Kovarska is most beautiful during late summer and early autumn...
During the past few years, the village went through many changes that improved appearance of the village. A number of pensions and hotels can be found in Kovarska. The regional tourism is at good level and the middle enterprise is prosperous.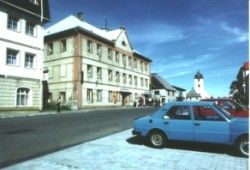 The village square in Kovarska with the view of town hall. St. Michael's Church in the background.

We can invite the visitors of Kovarska not only to visit the Museum of air battle over the Ore Mountains Sept 11, 1944, but we can also offer beautiful landscape for hiking, or to take a stroll to the Middle Age "calcium-furnace", which is located in a nature reservation with highly protected and rare herbage. Kieferheide peat bogs, located East and South-East of Kovarska are floristically very valuable locations.

Visitors can also visit village Medenec (Kupferberg) and tour a closed copper mine "Maria Hilfe". The town Vejprty (Weipert) can offer a well-known sculpture gallery "Galerie H", which is organizing international sculpture symposiums or the museum and natural reservation in Bozi Dar.


A memorial to Swedish soldiers. In accordance with a legend, a local farmer led into morass in order to save Kovarska from their devastating incursion. A successful local businessman Julius Kalla built this memorial in the beginning of the 20th century.
Visitors of Ore Mountains can also visit Prisecnice water reservoir located in a valley of a former beautiful town.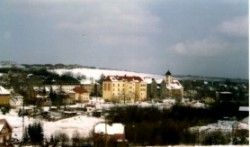 This is a view of Kovarska in a winter. In the middle of the picture is the elementary school of Sgt. J.C. Kluttz, the tail section of Lt. Trommer's B-17 crashed onto its roof during the battle.
A sporting unit "Jiskra", including football team, ski team and very successful skittles team are representing Kovarska outside the region. A very successful children group "TOM Stopari" can also be found in Kovarska. Their main activities are life in the nature, hiking, and overall nature conservation.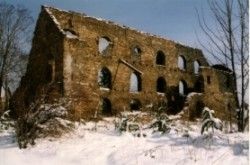 Ruins of many centuries old smithy in the centre of Kovarska.
During summer time you can use mountain bike trails in the Kovarska area, they are joined with other trails on the German side of the border. Pedestrian border crossing can be used, they are: (Vejprty- Bärenstein, Cerny Potok - Johstadt and Loucna - Oberwiesenthal). Many kilometers of cross-country ski trails are available in the region and downhill skiing on the slopes of Klinovec.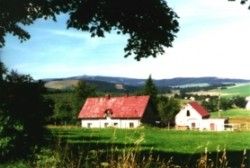 Another scenic view of Kovarska. In the background is a hill Fichtelberg in Germany.
Today, it's hard to believe that in these skies, over these mountains, an intense, dramatic and drastic air battle took place in the midday on September 11th, 1944…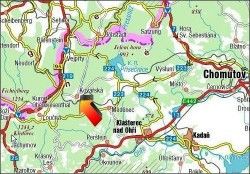 Additional information about the life in Kovarska
can be found on the village's official website
WWW.KOVARSKA.CZ
Contact:
Obecni urad Kovarska
Nam. J. Svermy
431 86 Kovarska
Czech Republic

tel.: 474396101, 474396180
fax: 474396180
e-mail: ou.kovarska@volny.cz

www.kovarska.cz