Jagdgeschwader 4
Jagdgeschwader 4 - Luftwaffe



Jagdgeschwader 4 was composed
of Stab, I., II. Sturm, III. and IV. Gruppen.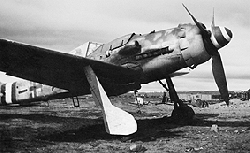 The Geschwader was heavily involved in the defense of the Reich at the end of the war and flew Bf109s, versions G and K and FW 190s, versions A and D-9.

ISince August 1943 until the end of the war, the JG 4 was stationed at more than 30 different airfields, including Mizil, Ferrara, Dortmund, Bad Lippspringe, Welzow, Frankfurt/Rhein-Main, Neuhausen, Alteno, Ansbach, Salzwedel, Leck, Jüterbog-Damm, Finsterwalde and Neukirchen.
The Jagdgeschwader 4 was one of the Luftwaffe units, which suffered a very high loss rate. The unit sustained a casualty rate of over 50 percent on September 11, 1944.
I. Gruppe of Jagdgeschwader 4 was assigned for the defense of Mizil and Romania's Oil platforms near Ploesti in 1943. They defended the oil fields from the 15th AF heavy bombers based in North Africa until the end of 1943. Then they were redeployed to defend Rome and northern Italy. The ground support units also fought against the partisans. In the summer of 1944, the Geschwader moved to Kassel where it was reorganized.
The Stab element was established here. II. Gruppe was formed in Salzwedel from Major von Kornatzki's famous "Sturmstaffel 1". This new gruppe was equipped with heavily armoured FW 190A8/R-2s. The unit was now renamed a "Sturmgruppe" and was assigned a role to intercept formations of heavy American bombers.
At the same time III. Gruppe was formed and equipped with Bf109s. The II and III Gruppe were heavily involved and took heavy losses during the fall of 1944.
The September 11th, 1944 air battle was for many pilots their first combat flight. A Gruppe IV was established on October 1944 and was equipped with Me109s, as was most of the JG 4. From November 1944, the Geschwader operated from Frankfurt A.M. The Geschwader again sustained very heavy losses during the Ardenne offensive and Bodenplatte operation.
In the middle of January 1945, new, young and mostly inexperienced pilots reinforced the unit in Guben-Jüterbog. A part of the Geschwader remained in Guben-Jüterbog until the end of the war in May 1945.
I. Gruppe: 1./JG4 (Staffel) was formed from 1./JG 77 in Mizil (Rumania) in August 1943. 2./JG 4 was formed a few months later. Stab I Gruppe, 3. and 4.Staffel JG 4 was formed in Mizil in late 1943. They finished the war in Leck on May 8, 1945.
II. Gruppe was formed in Salzwedel from I./ZG 1 and partially from Sturmastaffel I in June 1944.
III. Gruppe was formed from III./ZG 1 (9./JG4 from Ergänzungsstaff l./ZG 1) in Rotenburg in July 1994.
IV. Gruppe was formed from II./JG 5 in Finsterwalde in October 1944.
Commodores of the JG 4
Maj. Gerhard Schöpfel - from June until August 6, 1944
ObLt. Gehard Michalski - from August 6, 1944 until May 8, 1945
The JG 4 integration
Luftflotte 4, Jafü Balkan, Jafü Oberitalien, Jafü Mittelrhein 1. JD,3. JD, 5. JD, 3 Flieger-Division
The JG 4 concluded its wartime journey on April / May 1945 in central Germany. The II. (Sturm) Gruppe, with their FW190s, flew their last mission against the Soviet forces during the "Berlin operation", at Berlin's city gates. One of the last flyers of II. (Sturm) / JG 4 to be shot down was Mr. Manfred Kudell, a very good friend of our Museum. Mr. Kudell was part of the JG 4 ever since their first combat days, including September 11, 1944, until the end of the war.
II. (Sturm) and III. Gruppen of the JG 4 were deployed on a defense mission south of Chemnitz on September 11th, 1944. They were based in Lückau-Alteno and Welzow, in Cottbus area at that time. The II. (Sturm) Gruppe was led by Major Günter von Kornatzki and the III. Gruppe was led by Hptm. Johannes Kaufmann.
Both units attacked the 100th and 95th BG and destroyed 13 Flying Fortresses immediately and badly damaged many more. During the combat with the bombers and with 339th and 55th FG, the JG 4 lost tens of Fw 190s and Bf 109s. 21 Luftwaffe pilots were killed and 9 more were seriously injured.


FW-190D-9 flown by Gerhard Michalski,
the last Geschwader Commodore of JG 4
In Neukirchen/Germany, April 1945.
Gerhard Michalski was one of the fighter-pilots who flew in the Battle of Britain, at that time as an ADC to the famous "Henri" von Maltzahn, leader of II./JG 53 "Pik As". Michalski flew together with von Maltzahn on the Eastern front and in the air-battle of Malta, where he shot down 26 British fighters. He was promoted as leader of II./JG 53 in June 1942. Michalski became the "Geschwaderkommodore" of JG 4 in August 1944. He has flown this depicted "Dora 9" during the German retreat from the Eastern front in 1945. Oberstleutnant Gerhard Michalski survived the war with 73 victories, only to lose his life in a traffic accident in 1946.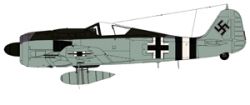 Geschwader "Reichsverteidigung" – the marking on these airplanes (JG4) were black-white-black stripes on the fuselage. Major von Kornatzki, the first CO of II. Sturmgruppe of JG 4 specially transferred this marking from Sturmstaffel 1 to JG 4.
The JG 4 fighters often also used black and white spirals on propeller hubs and a white stripe on an engine cowling.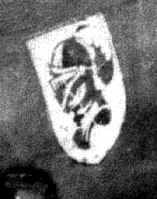 Some JG 4 aircraft displayed the Geschwaderzeichen, a blue escutcheon with a grey or silver knight's helmet with a red (red-white) plume, painted on the engine cowling.
This insignia was first used by II. Sturm Gruppe, but later also by other JG 4 Gruppen.


Designation of Luftwaffe fighter Gruppe
| | |
| --- | --- |
| | |
| I. Gruppe | II. Gruppe |
| - | |
| | |
| III. Gruppe | III. Gruppe (variant) |
| - | |
| | |
| IV. Gruppe | IV. Gruppe (variant) |

Jagdgeschwader 4 was one of only three German units to have one group designated as a "Sturmgruppe". It was II. Sturm Gruppe / JG 4, that played a significant part in the battle on September 11, 1944 over the Ore Mountains.
This Gruppe was equipped with Focke Wulf Fw 190A-8/R2 (see illustration), which were designed to deal with the heavy four engine bombers at close range.
The Fw 190s were flown by courageous pilots and were nicknamed "Sturmböck" or "Sturmjäger". The term "Rammjäger" for these units and their airmen is incorrect.


Appropriate additional equipment added to the Sturmgruppe aircraft was mainly in weaponry and armor. 5 mm armor plates called "Panzer Platten" were added to the fuselage sides around the cabin. Additionally a 30 mm or 60 mm armored glass on the canopy side panels. The main difference came in armament. The 30 mm cannons MK 108 replaced the 2 20 mm MG152 cannons. The firepower of this fighter was enormous (2 x 20 mm, 2 x 30 mm a 2 x 13 mm cannons and machine guns).
To protect these heavy, but slow fighters, a special Gruppen of Bf109's was assigned to fly a top cover against the American escort fighters while the FW 190's attacked the bombers. II. (Sturm) /JG4 was escorted by III. /JG4 during the September 11, 1944 operation.


Our Museum in Kovarska organizes an annual
reunion of former JG 4 servicemen since 1997
"Fliegerstammtisch JG 4"



Herr. Manfred Kudell, a former pilot of II. Sturm / JG 4
(in white jacket in the middle of the picture)
During the Museum opening ceremony in Kovarska
in September 1997.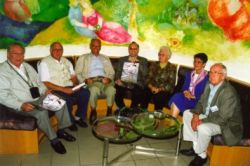 JG 4 in Kovarska - September 1997, as our VIP guests
during the Museum opening ceremony.
(from the left): Heinz Zimmer (III./JG 4), Hans Klaffenbach (III./JG 4), Manfred Kudell (II. Sturm/JG 4), Günter Kinner (III./JG 4) with his wife, far right - Oskar Butenopp (III./JG 4).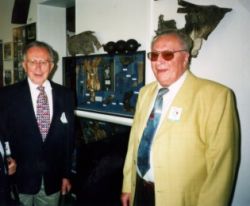 JG 4 in Kovarska - September 1999, 55th Anniversary of the battle.
On the left: Dr. Herbert Chlond (II.Sturm/JG 4) and Heinz Zimmer (III./JG 4). In the background – a showcase dedicated to Uffz Heinz Schien (III./JG 4), KIA on September 11, 1944.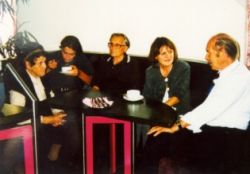 Unique meeting organized by our Museum: Mrs. Dora Fischer (left),
sister of Uffz. Heinz Schien, KIA on September 11, 1944, meets with
Mr. Helmut Detjens, who recalls his mission on September 11, 1944. It was the last mission for his friend Heinz Schien from the same Staffel.



Eric Mombeek – history of JG 4 Vol. 1, Vol. 2